25
July 2022
Van Buren Aluminum Fencing & Installation
Affordable aluminum fencing and installation from River Valley Fencing is high-quality fencing for your home that can meet your budget. Aluminum fences come in 4 grades, to suit all budgets. Not only is residential aluminum fencing affordable but, it is also hassle-free, and does not need repainting or maintenance. Aluminum fences do not rust or stain and will give you a sturdy and affordable fence for your property.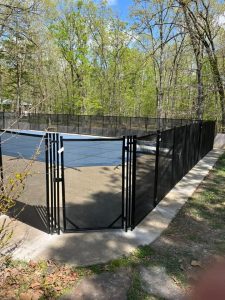 Choosing a Contractor for Aluminum Fencing
When buying an aluminum fence, there is more to consider than simply the cost of the fence. You would also need to consider the contractor who will be installing your fence. River Valley Fencing LLC has vast experience in this field and will be able to install your fence with little trouble, which means you will save on cost. There are many fencing companies that will supply and install the fence for you. Even if they do not provide installation services, they will definitely be able to recommend a contractor who does. This reduces your cost, as the company would be able to give you a package deal at a good bargain.
D-I-Y Options
There are aluminum fencing options available if you would like to fix the fence on your own; however, if you are not very familiar with the dos and don'ts" of installing a fence it will be best if you hire a professional to do it. The last thing that you need is to incur additional costs by making a mistake when you install your fence yourself.
Aluminum fences give you a wide range of choices, cost little to install, and are virtually cost-free after installation.
Call River Valley Fencing for Your Affordable Aluminum Fencing and Installation at (479) 883-1859
When you need an expert who can walk you through purchasing and caring for exterior aluminum fencing and gates River Valley Fencing LLC is here for you.