5
September 2022
Fence Company Fort Smith AR
Fences can be very important for any property and choosing the right fence company is equally important. Fences can help keep animals in or out, or they can help define an area of your yard as a garden or a play area. There are many different types of fences that can be used in your home or business. You can have a privacy fence around your house, or you can have a chain link fence to protect your property from trespassers. You can also have a decorative fence to accent your yard.
Hire a Fence Company in the River Valley
Fences are usually installed by professionals who are trained and experienced in the installation process. This means that you should only consider hiring a professional if you are not comfortable with doing the installation yourself. If you don't know how to install a fence, you may need to consult a professional. You should always check with your local building codes before installing a fence. The codes will tell you what type of materials are allowed to be used and how high a fence can be.
Choose the Right Material and Fence Company for your Project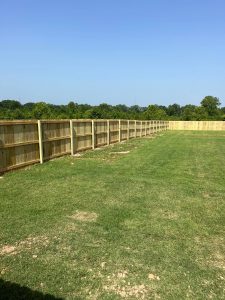 When you are looking at a fence company, you should ask about their experience. You should ask how long they have been in business and how many customers they have served. You should also ask about the materials that they use. Ask if they use pressure-treated wood, vinyl, metal, or other materials. Some fences are made of metal and some are made of wood. It is important that you choose the right material for your fence.
It is also important to make sure that your fence company is insured. You should never hire someone who is not insured because you could be held liable if something happens to your fence. In addition, you should ask the company if they have liability insurance. This is so that you can get compensation if anyone gets hurt while working on your property.
Know the Cost of Building Your Fence
You should also find out how much the job will cost. You should find out if the price includes all the materials and labor needed to complete the job. It is important that you know what you are paying for. If you are planning to have a large fence built, you should plan ahead and order materials in advance. This way, you can get the best price possible.
Find a Good Fence Company
Whether you are in the market for wood, metal, or chain link fence River Valley Fencing LLC can help you with your dream fence.  Call us at (479) 883-1859.
We want to be the fence company you call when you have a fence project.  We serve Fort Smith, Van Buren, Barling, Greenwood, Altus, Paris, Cedarville, Waldron, Mountainburg, Mulberry, Roland, Lavaca, Charleston, Ozark Charleston, Booneville, and Alma Arkansas.  In Oklahoma, we serve the communities of Muldrow, Sallisaw, Pocola, and Poteau.
Find us on Facebook.