Your Poteau OK Fence Company
Welcome to River Valley Fencing LLC, your top-tier local fencing company in Poteau, OK! As a locally owned company, we provide a wide array of superior fencing services in Poteau and its surrounding areas.
Poteau, the 'Gateway to the West,' is a picturesque city that effortlessly marries natural beauty with the charm of small-town living. Surrounded by hills and vibrant green landscapes, this city is a hidden gem in Oklahoma. Our work in Poteau enables us to contribute to its beauty by providing top-quality fencing services in Poteau that complement its stunning local scenery.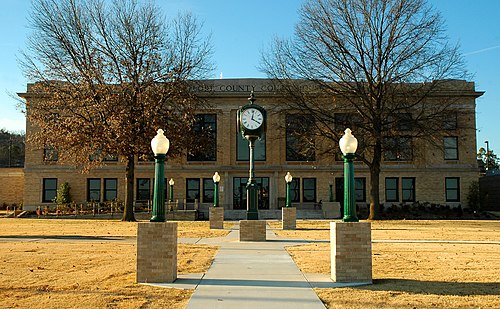 Our Fencing Services in Poteau
We pride ourselves on our comprehensive range of services as fencing contractors in Poteau. Whether you require a privacy fence for your home, a security gate for your business, or a stunning pergola to enhance your outdoor living space, River Valley Fencing LLC is at your service.
Fence Building and Installation in Poteau
A fence does more than mark your property boundary – it provides security, and privacy, and enhances the aesthetic appeal of your property. At River Valley Fencing LLC, we understand the multifaceted importance of a sturdy, well-built fence.
Types of Fences that We Build  and Install
Wood: For that classic, timeless look, you can't go wrong with a wooden fence. We offer various styles and finishes, suitable for privacy or decorative purposes.
Aluminum: Lightweight yet robust, aluminum fences offer a cost-effective solution, bringing together style and low-maintenance durability.
Wrought Iron: A wrought iron fence adds a luxurious touch to any property, providing unmatched strength and security.
Steel: For commercial properties or residences that require an extra level of security, our steel fences are the perfect solution. They are hardy, durable, and incredibly resilient.
Chain Link: Perfect for pet enclosures, boundary marking, or securing a large property, chain link fences offer cost-effective practicality.
Our team works closely with you to understand your specific needs, helping you choose the best fencing solution that harmoniously combines aesthetics and functionality.
Quality Gates in Poteau
Beyond fencing services in Poteau, we also specialize in gate installation. Our tailor-made gates provide an extra layer of security and create a welcoming entry to your property. We offer a range of gate styles, all designed to harmonize with your fence and your property's overall aesthetics.
Exquisite Decks and Pergolas in Poteau
Elevate your outdoor living experience with our custom-built decks and pergolas. These additions not only increase the aesthetic appeal of your property, but they also provide functional spaces for relaxation and entertainment:
Decks: Our expert team designs and constructs beautiful decks tailored to your preferences and needs. A well-built deck provides a perfect space for barbecues, parties, or simply enjoying Poteau's lovely weather.
Pergolas: Pergolas add an element of sophistication to any outdoor space. They offer a shaded area where you can relax, entertain, or even cultivate climbing plants for a touch of greenery. Our team can create pergolas in various styles, from classic to contemporary.
Serving Poteau and Beyond
We are proud to serve the residents and businesses of Poteau, contributing to the city's charm with our quality fencing solutions. Our services also extend to the broader River Valley area, bringing our dedication to quality and excellent customer service to our neighboring communities.
Why Choose River Valley Fencing LLC?
When you choose River Valley Fencing LLC, you're opting for a commitment to outstanding workmanship, unmatched customer service, and competitive pricing. Our goal is to exceed the expectations of our Poteau clients.
For top-quality fencing services in Poteau, OK, look no further than River Valley Fencing LLC. Contact us today at 479-883-1859 for a consultation or an estimate. We look forward to serving you and enhancing the beauty and security of your property.