Aluminum Fences in Fort Smith and the River Valley
What Is an Aluminum Fence?
Aluminum fences have been used for years in construction. They are used because they are very durable and long-lasting. Aluminum has become more popular as it is much easier to work with than wood fencing. This makes it perfect for people who don't want to deal with the mess that comes with wood.
Types of Aluminum Fence
There are many different types of aluminum fences. The most common is the picket style. This type of fence is made from metal posts that are connected to each other by horizontal rails. This type of fence is usually found around the exterior of the house. It can also be found along the sides of driveways and parking lots.
Another style of aluminum fence is the privacy fence. These fences are usually made up of metal posts that are connected to vertical rails. The vertical rails are then connected to the horizontal rails at regular intervals. This style of fence is great for privacy, but it is not very good for keeping out intruders. It does make a great addition to a yard though.
Residential aluminum fences can also be made into garden fences. This is a great idea if you want to create a nice outdoor area. You can have a nice fence and still have access to the outside. This is perfect for people who want to keep the kids inside and still enjoy the outdoors.
Advantages of Aluminum Fences
Aluminum is cheaper than wrought iron and wood in most cases. This is a major factor that makes aluminum fencing so much more affordable.
These fences are affordable and durable. There is no need to regularly spend on maintenance or replacement costs, unlike wood fences. It is a one-time investment that will last for years without replacement, thus lowering costs in the long term.
Fences made with aluminum offer many different colors.  Most people like the natural color of the metal. However, some people like to paint their aluminum fences. There are even companies that will custom paint your fence to match the style you want.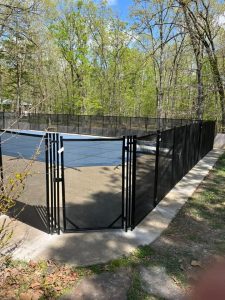 What Are the Cons of Owning an Aluminum Fence?
Aluminum fencing is a popular choice as it is low-maintenance and easy to maintain. However, it doesn't provide a great deal of privacy. If privacy is your primary concern, then you may want to think twice before purchasing aluminum fencing.
Aluminum can have higher upfront costs than other types of fencing. However, it has very low maintenance and can last a lifetime making it much less expensive over time.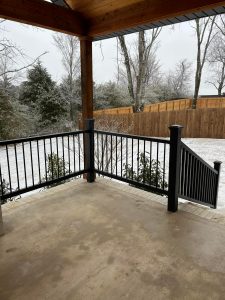 How Long Does an Aluminum Fence Last?
Compared to other types of fencing, aluminum fencing has very low maintenance and can easily last more than 50 years.
Call River Valley Fencing for Installation of Your Aluminum Fence
Aluminum fencing is very popular these days. They are easy to maintain and cost a lot less than other types of fences.  aluminum fencing is an excellent asset to any home or business exterior.  At River Valley Fencing, LLC we can easily guide you through the process of selecting and installing your aluminum fences and gates. Call us at (479) 883-1859.