Chain Link Fence Installation – Fort Smith and the River Valley
If you're looking to buy a new fence, then you've probably been looking at different types of fencing. One type of fence that you may have seen is a chain link fence. Chain link fences are one of the most common fences around today because they are so versatile and can be used in many different places. This type of fence is made up of metal links that are connected together with wires or chains.
A chain-link fence is normally made from galvanized or LLDPE-coated steel wire. It often comes in 50-foot rolls.
The popularity of chain-link fences is due to their relatively low cost in comparison to wrought iron or wood fences.
Installation of Chain Link Fences
Chain link fences and gates require a certain degree of accuracy, especially when attaching and stretching the mesh. It's important to plan out the fencing, as well as the post and the ground, in advance.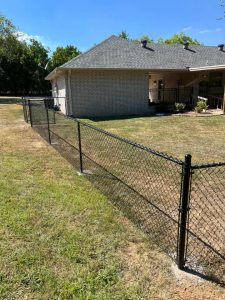 Advantages of Chain Link Fences:
Affordable – Fence installation is very affordable. The average chain link fence price ranges from $1,241 to $5,194. The average overall cost is around $3,218.
Durable and Long Lasting – Chain link mesh is galvanized to make it durable. A galvanized chain link fence may last 25 years or longer. Chain link fences may be woven or welded. Woven mesh is stronger than welded varieties
Easy and Faster Installation –
Low Maintenance – This type of fencing requires very little maintenance. The fence is usually galvanized, coated, or vinyl, which makes it last for years. Chain link fences are made of metal and it is relatively easy to clean.
Easy to Repair – If part of the fence is damaged you can replace it with a new section. The coating will match the rest of the fence and therefore the repair will be invisible.
Transparent – Chain link fencing is one of the best fencing materials for privacy. It allows you to see through the fence, but sunlight can reach your property.
Offer Security – Chain link is the most widely used fencing system today. It is the cheapest, strongest, and most durable fencing system in use today. It is perhaps the most affordable way to secure your property and assets.
Product Variety – Chain link fabric is one of the most common fencing options. Consumers have a variety of different choices for chain link fencing. Chain link should be "knuckled" at the top and bottom to prevent sharp edges. This will protect family members from being exposed to sharp edges.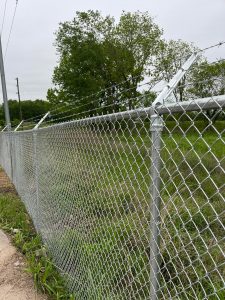 Call the Pros at River Valley Fencing for Chain Link Fences
River Valley Fencing, LLC is here to help you. Please let us know how we may be of assistance! We offer free estimates and can help you with your fence project from conception to completion.  Call us today at (479) 883-1859.