Your Trusted Fence Contractor Sallisaw OK
Nestled in the heart of Sequoyah County, Sallisaw, Oklahoma, is a charming city known for its rich history and friendly community. With picturesque landscapes and a blend of small-town charm and modern amenities, Sallisaw offers a welcoming atmosphere for residents and visitors alike.
River Valley Fencing – Your Premier Fence Contractor: Looking for a reliable and skilled fence contractor Sallisaw, OK? Look no further than River Valley Fencing, your trusted Fort Smith fencing company, serving the Sallisaw area with top-notch fence building, fence installation, and gate installation services. We take pride in delivering superior craftsmanship and exceptional service, enhancing the security and aesthetics of properties in Sallisaw and its surrounding regions.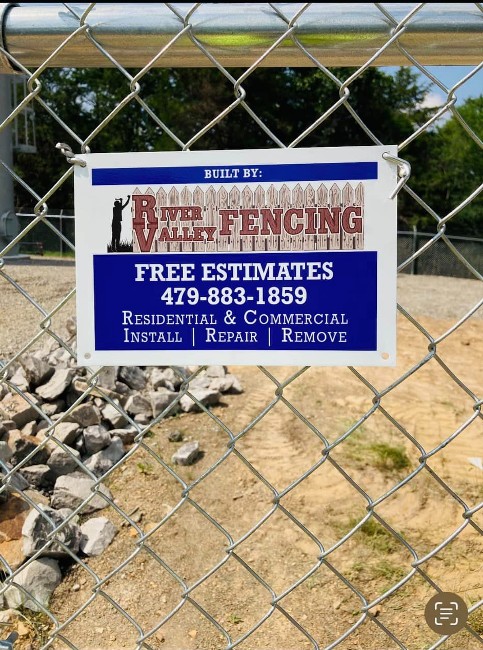 Fence Building Services in Sallisaw, OK
Whether you need a new fence for your backyard or want to upgrade your commercial property's perimeter, River Valley Fencing has you covered. We offer comprehensive fence-building services tailored to your specific needs. From classic wooden fences to sturdy chain-link options, our experts will work closely with you to design and construct the perfect fence for your property.
Fence Installation in Sallisaw, OK
With our years of experience in the fencing industry, you can trust River Valley Fencing to handle all your fence installation needs in Sallisaw, OK. Our skilled team ensures precise and efficient installation, providing you with a fence that not only looks great but also stands the test of time. We understand that each property is unique, so we offer a variety of materials to suit your preferences.
Types of Fences We Work On:
Wood Fences: A classic choice that adds natural beauty and privacy to your property, our wood fences are crafted with high-quality materials and expert craftsmanship.
Aluminum Fences: For a sophisticated and low-maintenance option, our aluminum fences are a perfect choice, providing both security and an elegant appeal to your property.
Wrought-Iron Fences: If you seek a timeless and robust fencing solution, our wrought-iron fences are designed to impress and offer unparalleled security.
Chain-Link Fences: For those seeking practicality and cost-effectiveness, our chain link fences and gates are durable and suitable for various applications, from residential to commercial properties.
Gate Installation in Sallisaw, OK At River Valley Fencing, we understand the importance of seamless gate installation to complement your fence perfectly. Our gate installation services encompass a range of materials, styles, and security options to ensure a smooth and secure access point for your property.
Types of Fences We Work On: At River Valley Fencing, we offer a diverse range of fencing solutions tailored to meet your specific needs. From classic wood fences adding natural beauty and privacy, to sturdy and low-maintenance aluminum fences, timeless wrought-iron fences, and practical chain-link fences, we have the expertise to design, build, and install the perfect fence for your property.
Fence Repair Fencing Contractors Sallisaw
How long does it take to build a fence?
Answer: The timeline for fence construction can vary depending on the size, materials used, and complexity of the project. However, most residential fence installations are completed within a few days.
Will you handle obtaining the necessary permits for fence building?
Answer: Yes, as an experienced fence contractor Sallisaw, we will take care of obtaining any required permits before commencing the fence construction process, ensuring everything is done according to local regulations.
What maintenance does the fence require after installation?
Answer: The maintenance needs depend on the type of fence you choose. Wood fences may require staining or sealing periodically, while vinyl and aluminum fences typically require minimal maintenance. We provide guidance on proper care for each fence type.
Do you offer warranties for your fence installations?
Answer: Yes, we stand behind the quality of our work and offer warranties for our fence installations to provide you with peace of mind and assurance in the longevity and durability of your new fence.
Call River Valley Fencing Today When You Need a Good Fence Contractor Sallisaw
At River Valley Fencing, we are dedicated to delivering exceptional fencing solutions that stand the test of time. Contact us today for a free estimate and let us enhance the security and beauty of your property in Sallisaw, OK!